Five reasons to separate from your spouse—and sometimes your kids—on Sunday mornings.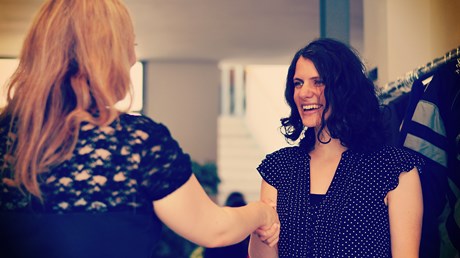 "Are you and Bryan okay?" asked a friend.
"Yes, why?"
"I noticed you weren't sitting together in church."
I often hear this question. The answer hinges on the rising need for hospitality in church.
Gospel invitation has always been the call of Christ, but it's all the more urgent as 21st-century American Christianity suffers from thin discipleship, and American culture no longer pushes people toward church. Every week, men and women wander into our gatherings for the first time, some invited, others of their own accord. Some have recently moved and are seeking community while others haven't been to church in a while, or ever. Their experience will determine whether they ever come back.
For my husband and me, offering hospitality has meant breaking down a common church practice: sitting together as a family.
Here are five reasons why we often separate on Sunday mornings:
1. Outsiders shouldn't be outsiders.
A year ago, I looked behind me during the early service and noticed a woman in her late 20s standing at the back of the church alone. She hovered, looking for a place to sit in a service mostly filled with families. Our church is majority white; she is black. Many of us have been here for years; she was new. When I beckoned to her, she looked confused. I felt embarrassed. Then I asked myself, "Would I rather be too friendly or risk her feeling like no one cared?" I walked over and said, "Please, come sit with me!"
After the service, we talked briefly. When she left, I wondered if I'd put her off. But later that week, our pastor emailed to let me know that a newcomer had reported being welcomed by a British woman with small children and how …
from Christianity Today Magazine https://ift.tt/2qKams6
via IFTTT