How a residential program in Virginia goes beyond crisis pregnancy aid.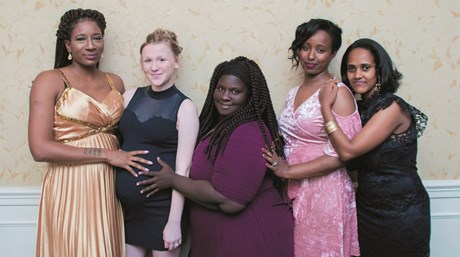 In the living room at Carried to Full Term (CTFT), a residential home for mothers in Haymarket, Virginia, seven-month-old Fabia crawls toward her mother, stretches out her arms, and whimpers. Her mother, Samrawit (Sam) Biru, obliges and picks her up. The two touch heads for a moment, like a mother lion and cub. This is their home—at least for now.
In October 2017, while pregnant with Fabia, Biru moved from Ethiopia to Virginia and was living in the US on asylum when she found herself homeless. She moved into CTFT before giving birth. (Her immigration case is still pending, and her husband—still overseas—hopes to join her when her status is approved.) Even if she'd been able to return to her native country, says Biru, she wouldn't have gone. She wanted to stay in the US and build a new life. As a nonprofit organization dedicated to providing long-term residential support to pregnant mothers in crisis, CTFT has helped her do just that.
Unlike a pregnancy clinic that only offers medical care, CTFT focuses on the entire well-being of the women who stay, many for up to two years. What makes it unique is also what makes it a challenge for the women who live there: The home operates like a boot camp for moms.
"The Program," as staff and residents call it, albeit half tongue-in-cheek, is a set of strict but often-personalized covenants that are put in place for the good of the residents, the resident coordinator, and the 32 volunteers who help implement them.
"The guidelines are there to facilitate change," says Frances Robin, or "Franie," the executive director of CTFT. At 5′10″, the Caribbean-born, Jesus-loving mother of four is a formidable presence in …
from Christianity Today Magazine https://ift.tt/2HtEAG6
via IFTTT