President quotes Billy Graham: "Prayer is the key that opens up the treasures of God's blessing."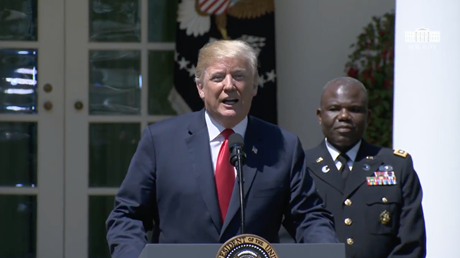 President Donald Trump has once again marked the National Day of Prayer with new policy designed to protect faith groups and their involvement with the American government.
Joined by his evangelical advisers and leaders from various religious traditions during a Rose Garden ceremony, Trump signed an executive order officially establishing his White House faith office.
After over a year of ad-hoc meetings with evangelicals and others, the White House Faith and Opportunity Initiative will formalize his administration's ties with faith leaders and, the President said, offer faith-based organizations equal access to government funding.
"Faith is more powerful than government, and nothing is more powerful than God," said Trump, before the crowd of about 200 guests.
According to Religion News Service, "those working on the initiative will provide policy recommendations from faith-based and community programs on 'more effective solutions to poverty' and inform the administration of 'any failures of the executive branch to comply with religious liberty protections under law.'"
At last year's observance, the President presented his executive order offering greater religious liberty protections throughout the federal government, including a promise to "never ever penalize any person for their protected religious beliefs."
"This order was the logical next step to last year's executive order which mandated a review of all federal departments, and during that review the White House maintained an open door policy to the faith community," said Johnnie Moore, the unofficial head of Trump's evangelical advisers and a frequent visitor to the White House. …
from Christianity Today Magazine https://ift.tt/2KA2fH1
via IFTTT