Christian immigration advocates critique a new policy that separates children from asylum-seeking parents from Central America.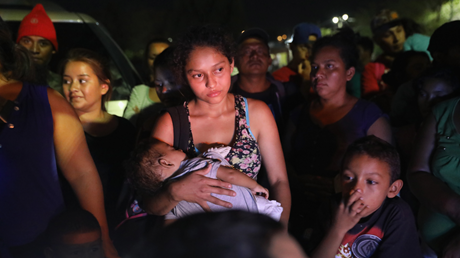 Family unity is among the biggest factors for American evangelicals advocating for immigration reform; it comes up in almost every statement, prayer, and open letter rallying believers around the cause.
And it continues to prove a major concern, as the government's recent crackdown on border-crossings requires authorities to split up parents and children who illegally enter the country together.
Despite the pleas from top evangelical leaders—including some of President Donald Trump's advisers—to protect the family unit, Attorney General Jeff Sessions announced this week that all adults caught by Border Patrol would be persecuted as criminals while their children would be separated and treated as if they entered the US as unaccompanied minors.
"I have put in place a 'zero tolerance' policy for illegal entry on our Southwest border. If you cross this border unlawfully, then we will prosecute you. It's that simple," he said on Monday in San Diego, where a caravan of migrants, many of them mothers and children, had arrived a week before.
"If you are smuggling a child, then we will prosecute you and that child will be separated from you as required by law."
Though families seeking asylum had previously been allowed to stay together, under the new policy, adults are to be detained while they apply and await review, while their children could spend years in shelter care in the US, The Hill reported.
"If law requires this, it must be changed," tweeted Robert P. George, a Catholic, legal scholar, and the former chairman of the US Commission on International Religious Freedom. "Sometimes it's necessary to separate children from parents. But where it's …
from Christianity Today Magazine https://ift.tt/2rwgdSf
via IFTTT