The US supports major Sunni group's efforts to fight radicalization.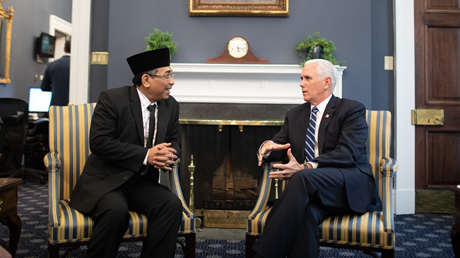 Less than a week after the first family of suicide bombers killed or injured dozens of worshipers at Sunday services in Indonesia, the country's top Muslim leader met with Vice President Mike Pence to discuss religious freedom in the face of mounting extremism.
"Honored to welcome the @NahdlatulUlama Secretary General to the @WhiteHouse today," Pence tweeted after his meeting Thursday with Yahya Cholil Staquf, who leads Nahdlatul Ulama (NU), the largest Muslim organization in the world.
"Their efforts opposing radical Islam are critical in Indonesia—where we saw despicable attacks on Christians. @POTUS Trump's admin stands with NU in its fight for religious freedom & against jihad."
Last Sunday, a family of six—including four children—believed to be affiliated with the terrorist group Jamaah Ansharut Daulah (JAD) set off explosives at three churches in Surabaya, the second-largest city in Indonesia.
As the holiday of Ramadan began, Staquf sat down with Pence and senior advisers in the West Wing to discuss the attack, which has heightened ongoing concerns from Christians and Muslims alike over radicalization and sectarian violence.
His organization—a Sunni group with as many as 50 million members—has been championed as a model of "moderate Islam" due to its vocal stance against extremism and its efforts to build healthier relationships across faiths. In 2016, CT reported how NU called for majority-Muslim countries to do more to protect freedoms for Christians and other faiths.
One of the victims of Sunday's attacks was a Christian trained by NU as a church guard; he died blocking a suicide bomber on a motorcycle.
"The VP conveyed deeply …
from Christianity Today Magazine https://ift.tt/2rQ4cak
via IFTTT