A rap artist reflects on her latest album and what it means to walk away from the "vultures of culture."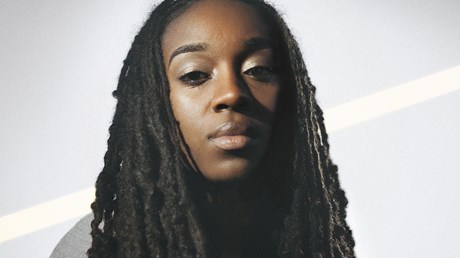 Jackie Hill Perry describes herself as a "rapper, writer, teacher, and poet." On May 11, just days before the birth of her second child, she released her newest album, Crescendo (Humble Beast Records), a follow up to The Art of Joy. The 14-track hip-hop record reflects her deep evangelical commitment to sharing the gospel through music.
"My love for God and my experience of him gives me a desire for other people to know and experience that," says Perry. "I do what Jesus did: I keep preaching. I keep teaching. God usually works in the places that we don't see, so I'm planting seeds."
CT spoke with Hill Perry right before her due date to discuss the motivation for her latest musical project, why affection for God is key to her faith, and how she responds to critics who disagree with her views on human sexuality.
How do those four aspects of your identity—rapper, writer, teacher, and poet—work together to define who you are?
Ultimately, all of those four things are forms of communication. They're extensions of the same thing, since everything I do involves language. Whether it's poetry, rapping, teaching, or writing, it all comes down to, "How can I use the gift that God has given me as a communicator? How can I use that for his glory?" God has allowed me to understand and communicate things uniquely.
Every time you get on stage, you're proclaiming the gospel. What drives you, exactly; where does the fire come from?
Affection. I have a great affection for the Lord. I want to know him and love him and experience him and continue to grow in him through the church, through Scripture, and through prayer. I see how satisfactory he is and how good …
from Christianity Today Magazine https://ift.tt/2knHT7X
via IFTTT