The popular North Carolina megachurch pastor takes over amid significant membership declines and a public reckoning over abuse cases.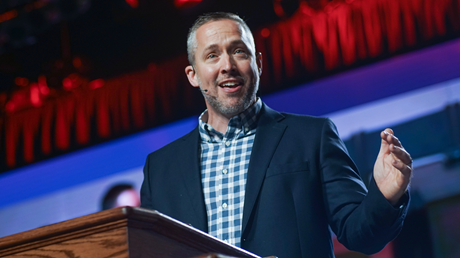 J. D. Greear stepped out of the 2016 election for president of the Southern Baptist Convention (SBC) in the third round of voting. But today, it only took one ballot for thousands of delegates to elect him to the helm.
Greear, a 45-year-old whose North Carolina megachurch has become a missions juggernaut, beat out former seminary head and SBC statesman Ken Hemphill by a margin of 69 percent to 31 percent at the 2018 annual meeting in Dallas, becoming the denomination's youngest president in 37 years.
Though the position is largely a symbolic, visionary leadership role—SBC churches are autonomous, and much of the major denominational decision-making happens within independent SBC agencies—Southern Baptists are looking to Greear during a tumultuous time.
America's largest Protestant body is now grappling with yet another year of steady declines, plus unprecedented pressure to address the treatment of women and incidents of abuse within its churches.
Christianity Today profiled Greear and his Summit Church in its June issue, and the pastor also spoke about his calling in a 2016 episode of CT Podcasts.
Much of Greear's presidential platform focused on renewing church planting and personal evangelization among Southern Baptists, including better engagement with young people in churches.
He's seen as a bridge-builder between generations, having studied at Southeastern Baptist Theological Seminary (SEBTS) under one of the most prominent leaders in the denomination, Paige Patterson. In recent weeks, as controversy surrounded Patterson—forcing him out of seminary leadership and off the annual meeting agenda—Greear has had to make his own statements condemning abuse and addressing the backlash …
from Christianity Today Magazine https://ift.tt/2LLBlvw
via IFTTT