After months of delays, Vice President Pence pushes to streamline aid to the persecuted.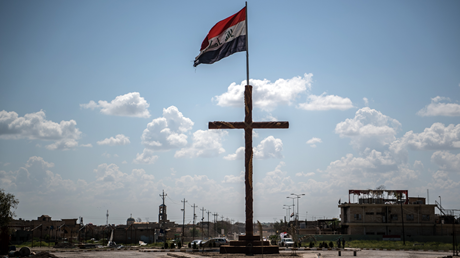 Following mounting complaints from Iraq's beleaguered Christian minority—who are desperate for security and a chance to rebuild—the United States has doubled-down on its pledge to channel funds to the persecuted religious groups who need such resources for their communities to survive.
At the direction of the White House, the US Agency for International Development (USAID) will address holdups in the process to assist Christians and Yazidis threatened by ISIS genocide.
Vice President Mike Pence announced last year that the US would shift its aid to support them directly rather through the United Nations, only to realize in recent weeks that many groups in the region were still waiting for the help they were promised.
"The Vice President will not tolerate bureaucratic delays in implementing the Administration's vision to deliver the assistance we promised to the people we pledged to help," spokeswoman Alyssa Farah said in a statement last week, announcing that USAID administrator Mark Green would travel to Iraq to meet with local leaders.
In a Wall Street Journal op-ed, Green wrote that despite the Trump administration's efforts to prioritize Christians and other persecuted minorities, the bureaucracy in place over the past several months still leaned on earlier thinking, "such as an overreliance on the UN and an inadequate appreciation for the work accomplished by faith-based organizations."
"The US stands with the persecuted religious and ethnic communities of the Middle East. And the federal government won't rest until these oppressed people receive the help they need to thrive again," Green said.
"That's the message I will deliver personally …
from Christianity Today Magazine https://ift.tt/2JCiB4O
via IFTTT