The influential leader kept teaching—and learning—homiletics over his 70-year career.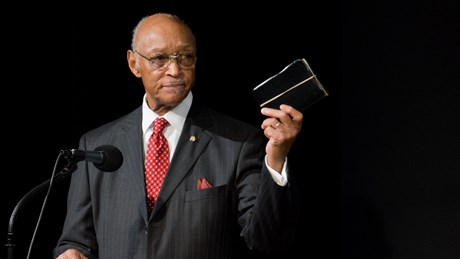 Preacher James Earl Massey, whose pastoral cadence went out over radio waves and across dozens of seminary chapels during his seven decades in ministry, died Sunday at age 88.
Massey is remembered as one of the most influential voices in the Church of God movement—a holiness denomination with about a quarter-million adherents in North America—and a gifted communicator who earned the nickname the "prince of preachers."
"The Church of God (and many others) mourn the passing of one of our greatest voices, James Earl Massey," tweeted Jim Lyon, general director of the Anderson, Indiana-based Church of God Ministries. "He walked through this world with exceptional grace, strength, and wisdom. Jesus was his preoccupation, the church was his friend, the world was his stage."
Massey taught and modeled Christ-centered, Scripture-centered preaching throughout his career, saying that "you can never master the art of preaching. It is always something toward which you are working, so that sermonizing is always a work in progress."
After having served as senior pastor of the Metropolitan Church of God in Detroit, a speaker on the Christian Brotherhood Hour radio show, and pastor, professor, and dean at Anderson University, the late preacher became a distinguished elder-at-large for his denomination and dean emeritus at Anderson.
John S. Pistole, president of Anderson University, called Massey a "legend in the Church of God movement" who "impacted countless lives for Christ and the Kingdom."
The Detroit native wrote 18 books on preaching and spiritual disciplines, and he lectured at over 100 colleges and seminaries, including Beeson Divinity School.
"Massey …
from Christianity Today Magazine https://ift.tt/2ItsNXO
via IFTTT