God has been stirring and the church has been uniting.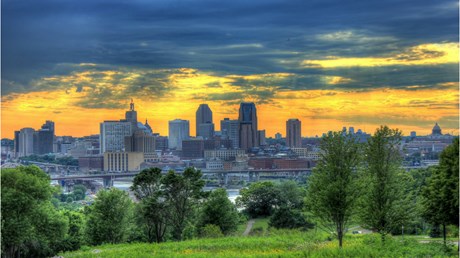 Ed: Nick, tell me a little bit about what you've been doing lately.
Nick Hall: For the last several years, we've been in the middle of a city-wide movement in the Twin Cities. Churches and leaders have been coming together across the Twin Cities. We've been meeting in prayer and worship and building friendships, wanting to reach our community with the gospel. This unification has been a baseline for some amazing things. We've had some reconciliation, discussions and understanding on race and justice, and then we've been talking about church planting and immigrant populations.
We just hosted a massive outreach expression that we've been building up to for the last 18 months. We believe it's a continued sign of what God is doing across the country. We had 750 churches come together, 1,800 pastors unite, over 10,000 believers praying and linking arms together through different gatherings – all united around the effort to reach the next generation. About 9,000 believers went through training to share their faith and disciple their friends. All of this built up to an outreach event where we filled the U.S. Bank Stadium – the stadium where the Super Bowl was just held.
It was the first stadium event here since Billy Graham came in 1996 on a crusade, which was directed by Jeff Anderson. His son, Jay Anderson, was one of the directors of the event we just hosted. We booked the stadium as an act of faith and planned this enormous next generation-focused outreach event for May 18th. We ended up having 50,000 people in attendance and over 9,000 young people responded to the gospel.
We've had an incredible follow-up effort partnering with hundreds of churches. Churches have been launching …
from Christianity Today Magazine https://ift.tt/2ItRK5t
via IFTTT